Kayaking Worldwide
Kayaking around the world is carried out in beautiful spots that exude an essence of peace and tranquility. It's a low effort water sports that requires a paddling using a double-bladed oar and a small boat. Rivers, lakes, oceans and even surf zones are Best Places for Kayaking. Here we are going to discuss to locations of the word which are very beautiful and famous for water sports activities and island trips.
World's Best Places for Kayaking
Whether you're just starting out new in kayaking or you know your way around it, one thing for sure is that paddling through crystal clear waters is one of those experiences you can't ever get used to or forget. There are undoubtedly beautiful and breathtaking areas around the world you can kayak, like:
1. ABU DHABI
Abu Dhabi with its breathtaking coastlines offers the Best places for kayaking with your family. Paddling through the green waters surrounded by lush forests is the ultimate standard for kayaking venues. Abu Dhabi's coastline provides the perfect conditions with warm summer breeze, cool waters and a diverse marine and on land wild life is bound to give you an experience that you wont forget for a lifetime.
KAYAKING IN THE EASTERN MANGROVES PROMENADE
The eastern mangrove kayaking is the perfect & Best Places for Kayaking with your family to enjoy your  nature retreat. Enjoy the lush green forests and the peaceful turquoise waters under the beautiful glimmering sun. The stagnant and poised waters of the islands give you a chance to have fun on your first day of kayaking despite having no previous experience. The scenic views of the lush green mangrove forests paired with the clear waters of the islands produce a picturesque view.
Mangrove Adventures for Marine Sports
Mangrove Adventures for Marine Sports provides you the following services for a fun time on waters with you and your loved ones; fully guided kayak tours that may be single or double depending on your preference. You can also kayak at sunrise and sunset and also avail the new Ramadan and full moon night kayaking service. So book your next vacations with Mangrove Adventures for Marine Sports and enjoy a summer like never before and enjoy the scenic views of the coastlines.
2. LAKE POWELL USA
Spread between areas of Utah and Arizona, the destination continues to attract almost 2 million tourists annually. It provides an awesome kayaking experience due to the course of the water being twisted and turned and hence, never boring. Although, might require some experience and skill.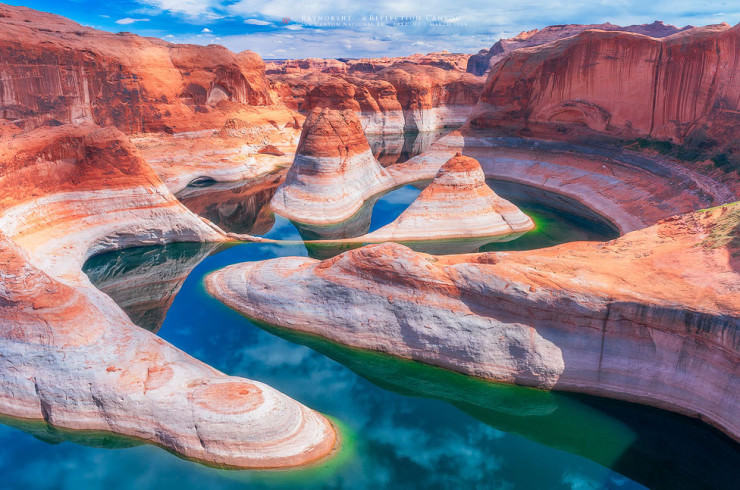 3. MILFORD SOUND IN NEW ZEALAND
One of the tourist favorite attraction in New Zealand and dubbed by Rudyard Kipling, as the eighth Wonder of the World. It has two waterfalls – Lady Bowen Falls and the Sterling Falls. Moreover there are whales and dolphins that frequently come above the surface of the water making it an excellent experience of marine wild life.
4. GREENLAND
For a long time, Kayaking has been one of the main means of transportation throughout Greenland since it was first inhabited by people. Today there are a number of companies that rent out modern kayaks to the visiting tourists. The spectacular coastline offers beautiful views of icebergs, whales, seals, and various other wildlife. You can find a kayak rental company very easily that provides a truly great experience in nature.
5. MALDIVES
 Maldives is often a dream vacation spot. The soft and sandy beaches, turquoise waters and the luxurious hotels all are a great tourist attraction. Most of these hotels provide water sports facilities, including kayaks and many other activities. Glide in the calm warm ocean and enjoy the heavenly ambience in the air. So kayaking in Maldives is a great choice if you're tired of the mundane routine at home.
6. MENORCA ISLAND IN SPAIN
The tiny islands located in the Mediterranean Sea has over 120 beaches. It is certainly one of the most exciting spots if we're looking at the options available to explore. Swimming in the crystal clear water, and kayaking are also popular water activities amongst the tourists. Go on your vacations in summer for truly the best experience.
7. THE BLUE RIVER
Situated in the glaciers of Greenland, the Blue River is has a characteristic of incredible crystal clear water of the melting ice. It provides one of the best kayaking experiences and is a great opportunity to explore the Peterman Glacier as well.
8. HAWAII
Hawaii is another one of those desirable vacations destination. This volcanic island  has so many sites and activities to offer its visitors. Kayaking with loved ones here provides you an opportunity to explore the beautiful coastline. The Kauai cliffs or Maunaloa and Kilauea volcanoes are the places that provide some truly spectacular views.
9. MORRAINE LAKE IN CANADA
Easily one of the most recognizable lakes in the world this location is especially famous for its striking turquoise color and impressive views. It is situated in the mountains of Banff National Park. The snowy peaks of the mountains reflect in the clear waters as you kayak through its peaceful waters count in the Best Places for Kayaking.